An Industrial Breathing
Air Solution

Required filtration in a compact size
What is Grade D Breathing Air?

The Occupational Safety and Health Administration (OSHA) standard 1910.134 requires employers to provide employees using atmosphere-supplying respirators (compressed air) with breathing gases of high purity. This is further defined by the American National Standards Institute (ANSI) specification G-7.1-1989 which details proper levels of Oxygen, Hydrocarbon, CO, and CO2.

Wilkerson's 3 stage filtration system has been used in these applications for many years and can help meet this standard for worker safety.*
Features of Filtration
• High flow in compact sizes
• 3 stages of filtration
• Visual maintenance indicator on 2nd stage
turns red when maintenance is required
• Designed for quick and easy assembly
and maintenance
*This 3 stage filtration system is only a portion of a complete Grade D breathing air system and should be used as such. Using these products does not guarantee Grade D breathing air. Quality of downstream air is dependent on the supply air. CO levels should be continuously monitored with audible and visual alarms. Air quality should be checked regularly to confirm Grade D specifications per OSHA 29CFR1910.134.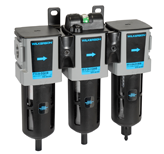 View Industrial Breathing
Air Data Sheet (pdf)


What is "Point of Attachment"?
This is the point where the respirator hose connects to the
Grade D air supply source. The National Institute of Occupational
Health and Safety (NIOSH) defines this in their document 87-116
including the need for a regulator, pressure gauge, relief valve
set to 125psi, and fittings compatible to the respirator
manufacturer's hose.
Accessories for Point of Attachment
• ASME coded relief valve
- Preset to 125psi
• Modular pressure regulator
• Easy to read pressure gauges
• "Twist-Lock" quick connectors
- Fast & Easy 1 hand connection
• Snap-Tite brand quick connectors
- Lightweight construction