What's New
New Products

Check out the E28/Q28 Safety Exhaust Valve.
When applications demand a safe environment you can count on safety valves from Wilkerson. The E28/Q28 family of safety exhaust valves are 3/2 normally closed valves designed to rapidly exhaust compressed air in the event of a fault condition and to provided monitored coverage ensuring safe function.
---
NEW Catalog and Product Listing!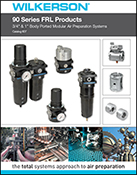 Download Catalog 607:
R90 Series FLR Products

Other new product literature:
Bulletin 9EM-B3: R120 Regulator

Bulletin 9EM-B1: Air Preparation for Grade D Industrial Breathing Air

Catalog 604: Pneumatic Products - Precision Regulators

FRL-SIF-619: Precision Regulators

---
More Info on Clean Dry Air Systems (PDFs)
Catalog: 603: Dryer Products: Liquid Separators, Drain Valves, & Refrigeration Dryers
FRL-SIF-618: Guide to Compressed Air Drying
FRL-TEC-600: Polycarbonate Bowl Chemical Compatibility