home
products
what's new
support
locate a distributor
industry links




catalogs & archived literature
CAD Files
installation & maintenance
Safety Guide
contact us

ISO 9001:2000

Redundant Safety
Exhaust Valve

E28 Series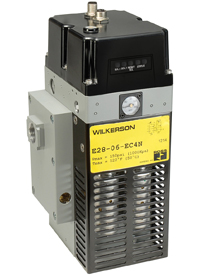 View complete specifications for the E28 Series (starting on page C8 of the complete Wilkerson Catalog PDF)
FEATURES
Proven control reliable technology with integrated soft start
Soft start application of air to the system when energized; can be adjusted for slower or faster buildup of system pressure
Rapid exhaust of downstream air when de-energized to remove stored energy and allow safe access.
Memory, monitoring, and air flow control functions are integrated into two identical valve elements. Valves lock-out if asynchronous movement of valve elements occurs during actuation or de-actuation, resulting in a residual outlet pressure of less than 1% of supply.
Reset can only be accomplished by the integrated electrical (solenoid) reset. Cannot be reset by removing and re-applying supply pressure.
Basic 3/2 normally closed valve function: Dirt tolerant, wear compensating poppet design for quick response and high flow capacity.
LED indicators of main solenoid operation, reset solenoid operation, and status indicator condition.
Optional transducer for monitoring of downstream pressure in the system.n>
Dual exhaust silencers included.
Not for use with clutch / brake applications.
For use in conjunction with a safety relay or safety PLC.
SPECIFICATIONS
Pilot Solenoids:
According to VDE 0580
Enclosure Rating:
According to DIN 400 50 IP65
Connector Socket:
According to DIN 43650 Form A
Three Solenoids, Rated for Continuous Duty
Standard Voltages:
24VDC
Power Consumption (Each Solenoid)
For Primary and Reset Solenoids:
1.2 Watts on DC
Enclosure Rating:
IP65, IEC 60529
Electrical Connection:
M12, 5 Pin
Ambient Temperature:
15°F to 122°F (-10°C to 50°C)
Media Temperature:
40°F to 175°F (4°C to 80°C)
Flow Media:
Compressed Air, Filtered to Minimum 40 Micron
Inlet Pressure:
30 to 150 PSIG (2 to 10 bar)
Pressure Switch (Status Indicator) Rating:
5 Amps at 30 Volts DC
Monitoring:
Dynamically, cyclically, internally during each actuating and de-actuating movement. Monitoring function has memory and requires an overt act to reset unit after lockout.
Mounting Orientation:
Vertically with Pilot Solenoids on Top
Port Threads:
3/4 NPT, 3/4 BSPP
Control Reliable:
Category 4 (Cat 4); performance Level e (PLe) in accordance with Machine Directive - EN ISO 13849-1 (certification pending)